CALIFORNIA FRAME
....discovered a few 'issues' with the original frame. found a mint, totally rust free '70 4dr frame on ebay (where else) for $202. plus shipping. this frame could have been stored for 37 yrs, it's that nice, absolutely NO rust anywhere. will be installing it last week of july, will post pictures as i go....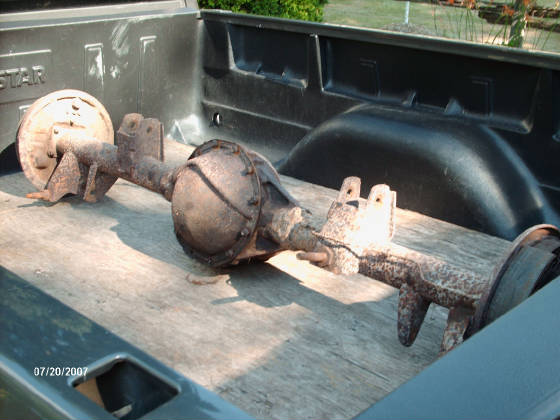 '66 caprice 12 bolt with ontario rust
the original 'budd' frame was rotten in the common places, side rail at the trans mount and the area in the above picture. the '70 4dr 'ao smith' matched up to the '69 frame perfectly.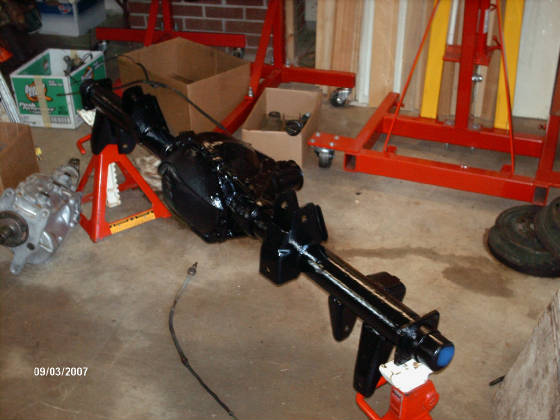 12 bolt, blasted, painted, ready to build...
the original 3.08 10 bolt replaced with a 12 bolt from a '66 caprice 396 conv. with fresh 3.73 richmond gears and moroso alum. cover. also added the 2nd upper control arm. new gas tank was another 'might as well'. rear sway not yet installed.
almost 8 weeks from start to finish, it's back together. if it's attached to the frame, it got blasted, painted, rebushed and/or replaced new. car now sits as it should with it's new coil springs. front disc brakes are next on the 'list'....
drivetrain is all changed from original purchase. now a '75 454 with a mild bracket cam, gm perf. intake, 800 dbl pump holley, hei distributor, hedman coated headers. trans is a 2.52 1st gear M20 from a '70 m/carlo, w/hurst comp plus shifter, lakewood u joints. '66 caprice 12 bolt rear with 3.73 gears, posi unit from an L79 '68 chevelle. 15x7 frt and 15x8 rear rally wheels.