this '69 2dr post bel air was built the 1st week of feb. '69 at the tarrytown ny chevrolet plant. as purchased, it came with a '72 454, saginaw 4spd, 3.08 10 bolt rear. it originally left the factory with a 6cyl. and 3spd in the tree trans. was shipped to and sold out of missouri.
ABOVE/BELOW....here's a few picts a couple days after purchase. originally a code 63, champagne paint with black vinyl bench seat interior. only options it seems to have had are pwr steering and dual outer mirrors, it was also a radio delete car. looks like a previous owner tried to make it resemble an impala, note the 3 lamp rear bumper and painted outer door window frames.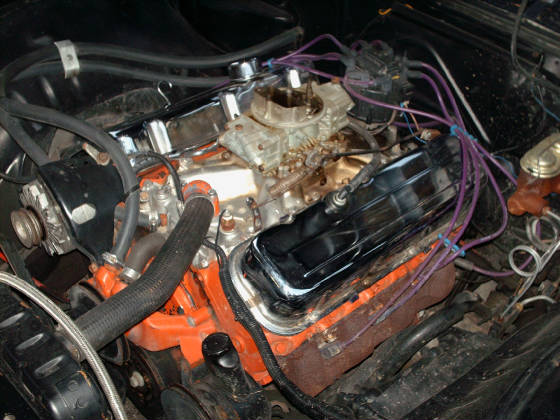 ABOVE....a tired mess under here, came equipped with a 750 holley carb and intake, '65/'66 exhaust manifolds, the original 6cyl. 2 grv pulley alternator and a noisey gear drive. note the missing belts and crank pulley, which flew off on the way home.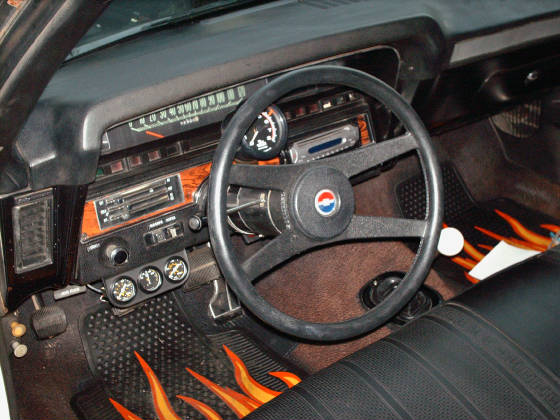 ABOVE another mess here also, more attempt at the impala look. have removed tach/gauges and steering wheel and ebayed them. also found and installed a correct bel air dash cluster to replace the hacked out impala trimmed dash. carpet also needs to be replaced, faded to brown.
ABOVE....tidyed up a bit. new pulleys, brackets, belts, hoses and clutch fan installed. recored radiator, installed painted factory valve covers, rewired to an internal regulator alternator.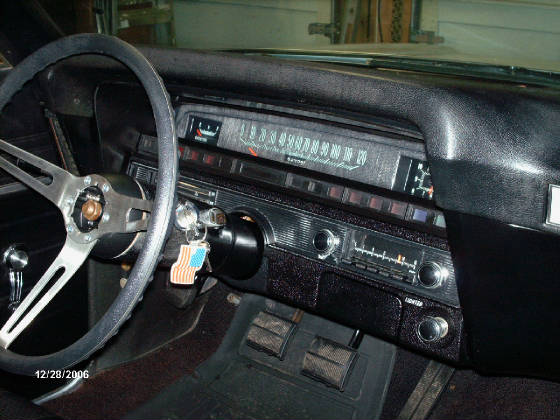 ABOVE correct bel air/biscayne dash cluster reinstalled, repro sport steering wheel, nos clock, an original am radio.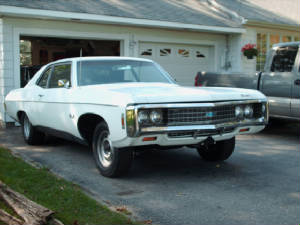 new front b/blk springs....too high damn it.
ABOVE....a correct 4 lamp nos biscayne/belair rear bumper and nos lamp lenses reinstalled.